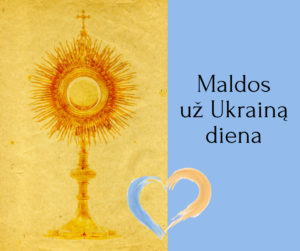 On 14 September, the Feast of the Exaltation of the Holy Cross, following the invite of H. E. Msgr. Gintaras Grušas, Archbishop of Vilnius and CCEE President, a day of prayer will be celebrated to invoke peace for Ukraine.
Eucharistic Adoration is the common form of prayer chosen for this initiative: in all of the European Bishops' Conferences liturgical aids and prayer schedules have been prepared for this appointment. Pastors and faithful, will gather together on their knees in front of the Blessed Sacrament to pray that the Lord will grant peace to Ukraine, taking up the very appeal of Pope Francis who called for each person to "be a builder of peace and to pray that thoughts and plans of concord and reconciliation will spread in the world".
The European bishops have repeatedly joined their voice to that of the Pope in calling for a halt to arms, an immediate end to the war in Ukraine and efforts towards peace. They have made numerous appeals to the heads of nations and the international community to do everything in their power to end the current war that is destroying lives and causing untold suffering The Lenten initiative, called the 'Eucharistic chain', conceived as a sign of the Church's closeness to the victims of covid and their families, this year also became an opportunity to pray for the victims of the war and invoke peace in Ukraine.
The Bishops' Conference of the Roman Catholic Rite in Ukraine has declared 2022 the Year of the Holy Cross. In a letter published to mark the beginning of the Year of the Holy Cross, the Ukrainian bishops write: "Starting from February 24, since Russia attacked Ukraine, we are walking a painful road of the cross, on which innocent people suffer, are wounded and killed, there is a lot of evil, a lot of suffering! At this time, we feel more acutely than ever what violence against the innocent is, what the crucifixion of the innocent is. Now more than ever we understand Jesus Christ on His Way of the Cross, we understand His suffering and death as an innocent Lamb who was crucified by people who gave themselves to the service of evil". The Year of the Holy Cross will end with a solemn Holy Liturgy and Way of the Cross with the participation of all Roman Catholic bishops of Ukraine on 14 September 2022, during the European Day of Prayer for Ukraine, at the Shrine of the Lord's Passion in Sharhorod.