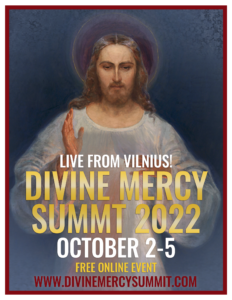 The Divine Mercy Summit 2022 begins with Mass from the Shrine of Divine Mercy in Vilnius on Sunday, October 2, and concludes the same way on the Feast Day of Saint Faustina, October 5, 2022.
Hosted by the Original Divine Mercy Institute, the summit will be broadcast LIVE from Vilnius, the First City of Mercy, featuring speakers, theologians, artists, musicians, historians, and experts from around the world. Also, join special guests, The Sisters of Merciful Jesus, and The Brothers of Merciful Jesus – the thriving religious orders Jesus asked for in His apparitions to Saint Faustina. List of speakers here.
This year's theme is "The Art & Work of Mercy" – a prayerful exploration of what it means to receive, share, and cooperate with Divine Mercy in the world. Read more about this year's theme.
Registration and the Summit is free.